Post by Sleeper Agent on Feb 7, 2014 23:22:02 GMT
Hi Jim.
Sorry for the delay but I wanted to double-check my notes before getting back to you. I've included links for each example for you to try and verify against my beliefs of what they are. Any problems with the links then let me know, though just to be clear I do not own any copyright for these so best not post them about publicly. Just a reminder I have adopted the table format listed on pages 6-7 in 'An Illustrated History of LMS Locomotives Volume 3' by Bob Essery and David Jenkins for the tender types.
L2 Tenders - received from the 294 class in BR days. They look similar to the M1 as there were 5 rivets long the bottom and top of the tank but the chassis had fewer and also elongated holes between the axels boxes.
No.57554
i.imgur.com/vJfBmWo.jpg
i.imgur.com/84kWUaF.jpg
First photo taken 2nd of August 1957, second is more clear, taken April 1960. My prior photo c1945 shows engine with a M1 type.
No.57586
i.imgur.com/29GzV5M.jpg
Loco still had original type in August 1937 but gained the L2 type some time prior to this 1953 photo. A 1961 photo shows it still with this type, just one month before it was withdrawn.
No.57590
i.imgur.com/pIqLyn3.jpg
Date unknown but with the Ferret & Dartboard must be 1956 or later. In 1952 loco still had the original type.
No.57607
i.imgur.com/xrvJVAM.jpg
Taken March 1957. Unsure when it was gained but by August 1961 it had been replaced with a P2 type.
No.57615
i.imgur.com/uGta4Cg.jpg
Taken 27th of July 1953. Unsure when it gained this by some margin but by the 22nd of May 1962 the original type had replaced it.
No.57618
i.imgur.com/Zxaoze0.jpg
Date unknown to me but I'm confident it is after my 1960 photo when it had a P2 type.
I believe the original type was still present on the 17th of Feb 1950 but some time prior to this 1960 photo the L2 type had been gained.
M1 Tenders - received from a 721 'Dunalastair I' class. Plates at the front end were higher to match the engine's cab. One way to identify them is that there were 5 rivets horizontally spread out along the bottom and top of the tank.
No.17554
i.imgur.com/9kG7C13.jpg
Photo c1945, by April 1960 it was running with a L2 type. A photo taken in 1957 also looks like its the same L2 type, certainly the tank height looks lower though the angle makes it hard to fully confirm.
No.57581
i.imgur.com/qWulI1w.jpg
Photo taken 1957. Loco kept this until withdrawal, though prior to gaining it ran with a P2 type.
M3 Tenders - originally from the 600, 908, 918 and 179 classes. They had higher tanks than the ones used on the 812, 652, 30 and 34 classes.
No.17552
i.imgur.com/QuGNfAc.jpg
Taken post 1927, no other photos available to me. Tender has already gained the horizontal lip along the bottom of the tank.
No.17575-57575
i.imgur.com/VmgDRDN.png
i.imgur.com/bwhlPCU.png
First photo taken October 1947, second taken 16th of May 1951. Loco had reverted to M2 type by 28th of July 1958 and it was carrying the Cycling Lion.
No.17577
i.imgur.com/A9VSAhu.jpg
Taken 19th of August 1962, no other photos available to me.
No.57614
i.imgur.com/YnLSErX.jpg
Gained some time after 1953, photo taken in 1960. The loco still had it by 1962 and given its withdrawal date in October that same year is likely to have been scrapped with it. This M3 type has a higher horizontal lip along the bottom of the tank than usual.
No.57633
i.imgur.com/1KYcWFu.jpg
Taken 1952, gained sometime after September 1949. No later period photos available to me.
M4 Type? Built exclusively for the nine strong 55 class, though most (if not all) of these later ended up on the 294 class.
No.57642
i.imgur.com/qXvzekw.jpg
i.imgur.com/iAHXmSz.png
First photo undated, second taken August 1952, neither example carrying crests or writing. By the 28th of July 1958 it had been replaced with a P2 type.
I am having trouble confirming this is the type paired to 57642, as there are very small holes in the frames between the axels. As built the frames were solid, though the one attached to 14606 (ex-CR 52) had its frames modified but in this case the added holes were bigger.
P2 Type - received from Pickersgill's 300 class. These were very similar to the 812/652 tenders but featured coal grills and slightly higher front side plates to match the engine's cab.
No.57557
i.imgur.com/w0aZGgV.jpg
Photo taken 1959, only one I have of this loco. Loco was withdrawn in September 1962 so quite possible it still had this type at that point.
No.57571.
i.imgur.com/svRbwfG.jpg
Taken 1958. Less clear photo from 1957 shows the same type and loco still has it in September 1960. I assume it was kept it when withdrawn in April 1962.
No.57576
i.imgur.com/z2m1NBL.jpg
Taken 1953, earliest photo I have of this member but the sequence of proceeding dates show it kept and was withdrawn with this type. After this photo the Cycling Lion was seen and the usual horizontal lip along the bottom of the tank can been seen.
No.57581
i.imgur.com/JscIVmn.jpg
c1950s, last photo c1938 showed still with original type but by 1957 a M1 type had been substituted and this was retained.
No.57583
i.imgur.com/q9MSUqZ.jpg
Taken 10th of July 1959 but no further photos to know if it retained the P2 type till withdrawal. Loco still had original type on the 4th of June 1949.
No.57589
i.imgur.com/erqvev9.jpg
Taken 17th of August 1955, no further photos but loco still had original type on the 30th of April 1936.
No.57595
i.imgur.com/NhSvH8k.png
Taken 13th of April 1958. Highly likely loco kept this type when withdrawn in November 1959 as my May photo from that year shows it with the cycling Lion and the highish horizontal lip along the bottom of the tank is consistent. Loco still had original tender type on the 31st of August 1939.
No.57596
i.imgur.com/NEcqAn5.jpg
Taken 1959. 16th of September 1957 and prior photos going back to 1927 show original type, though looking at the horizontal lips I think one original type was swapped over for another between the 29th of September 1953 and the 16th of September 1957.
No.57601
i.imgur.com/9LgEmkd.jpg
18th of August 1962, loco withdrawn with this P2 type. 1952 and an undated proceeding photo shows it still with original type.
No.57607
i.imgur.com/gn7qt9O.jpg
Taken August 1961. P2 type has replaced the L2 type seen in March 1959.
No.57611
i.imgur.com/zZjJnEb.jpg
Taken some time after my c1934 photo as that photo shows it in much better condition and without dog clips. By the 31st of March 1961 an original type had replaced the L2 type.
No.57618
i.imgur.com/uwyDYdo.jpg
I believe the original type was still present on the 17th of Feb 1950 when it carried 'BRITISH RAILWAYS' lettering, this photo was taken in 1960.
*No.57618 is said to have been one of 'The Little Mill Twins', in which case the P2 had been swapped for a non coal grill type but the lack of a vacuum pipe leads me to conclude it's a case of mistaken identity.
www.rail-online.co.uk/p289522654/h1627E315#h1627e315
The blurry undated photo listed in the L2 section is also said to be 57618 and that one I am more inclined to believe...are you able to shed any light on the 'The Little Mill Twins that operated past Drongan? This link states No.57618 for the 812 and No.57644 for the 652,
www.railscot.co.uk/img/54/103/
and this checks out with a photo I have of the two passing Annbank station in April 1962 (No.57644 is piloting).
i.imgur.com/pruKaU4.jpg
No.57622
i.imgur.com/jqXisc9.jpg
23rd of June 1957. 1959-22nd of May 1961 photo show it with an original type, fairly likely it withdrawn with it in July 1962. My 31st of August 1936 pic also shows it with an original type.
No.57640
i.imgur.com/JjGJzH9.jpg
Undated but Ferret & Dartboard places it 1956 or later. Loco still had this type on the 22nd of May 1961 and was withdrawn in November that same year. Prior photo taken the 27th of July 1953 shows it with original type.
No.57642
i.imgur.com/83O7kyx.png
28th of July 1958. L2 type has replaced the mystery M4 type seen in 1952. Loco still seen with this type on the 1st of April 1961, withdrawn on the 16th of July 1962.
No.57643.
i.imgur.com/HN2RVBJ.png
March 1959. Only other photo of this member shows it in the pre-1928 livery and with original type.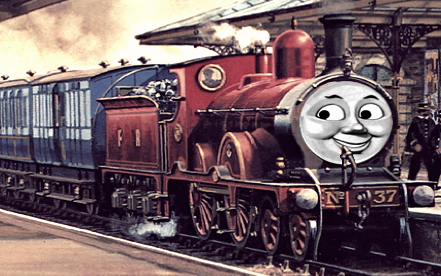 D
on't
T
ry
T
his!
D
erek's
T
rial
T
ribulations
---
Right lets try and keep this game going.....
T
he
S
ad
S
tory
o
f
H
enry
T
he
S
adistic
S
aga
o
f
H
enrietta
No worries as it's useful to have them so compiled during a re-glance. I wasn't expecting you to change anything much as you had already pulled ahead of where I thought you were in the design stage but thought i'd show my cards as there's nothing worse than finding an oversight afterward.
I haven't really taken note of what Hornby's got in their cabs. Detail is always nice of course but generally speaking the cab back head accuracy doesn't bother me much when there's a deep roof and crew present, only on more exposed engines would I be truly concerned to be honest, Skarloey and Rheneas back in the day being extreme examples. That said good to know you're doing the seats and such

I don't really use 'A0' myself but to try and clarify I would be after your 'A0 H1' but with Henry's RWS style cab window and the A0 firebox, where is recedes to avoid the driving wheels. I would also be after a traditional roof with a definitive split between it and the sides rather than the continuous Ivatt style with consequent green all over, basically as on my Spong edit but without my firebox oversight.
*Just to stress this was more of a re-edit than a full blown attempt to make a definitive Henry I.
 
I read about the motor issue and such, I can deal with that and the wheelbase compromise etc so that fine. I'm in no way trying to rush you on this but you were getting a little unsure about demand so was voicing my vote.
 
MTRA301088
  
Getting back to Barrow this comes from a 1916 map.
imgur.com/a/mWiqE
It's too big for the scanner but owning such a large map is useful. Prior i've struggled with the exact layout around here and had been quite oblivious to the spur near Ainslie St. I have no idea what it serves but it's a shame as that is where I had penned for the NWR's carriage sidings.
Even without getting rid of it there might still be enough room for the NWR's interests. For the NWR's loco MPD and exchange yard I would go south of the triangle junction below the triangle junction as there some green sites there ripe for compulsory purchasing and in comparison to the FR's MPD is not much further away from the station, plus goods trains are able to bypass said station

Thought I would throw my hat in the ring in with my own recreation of the Railway Series.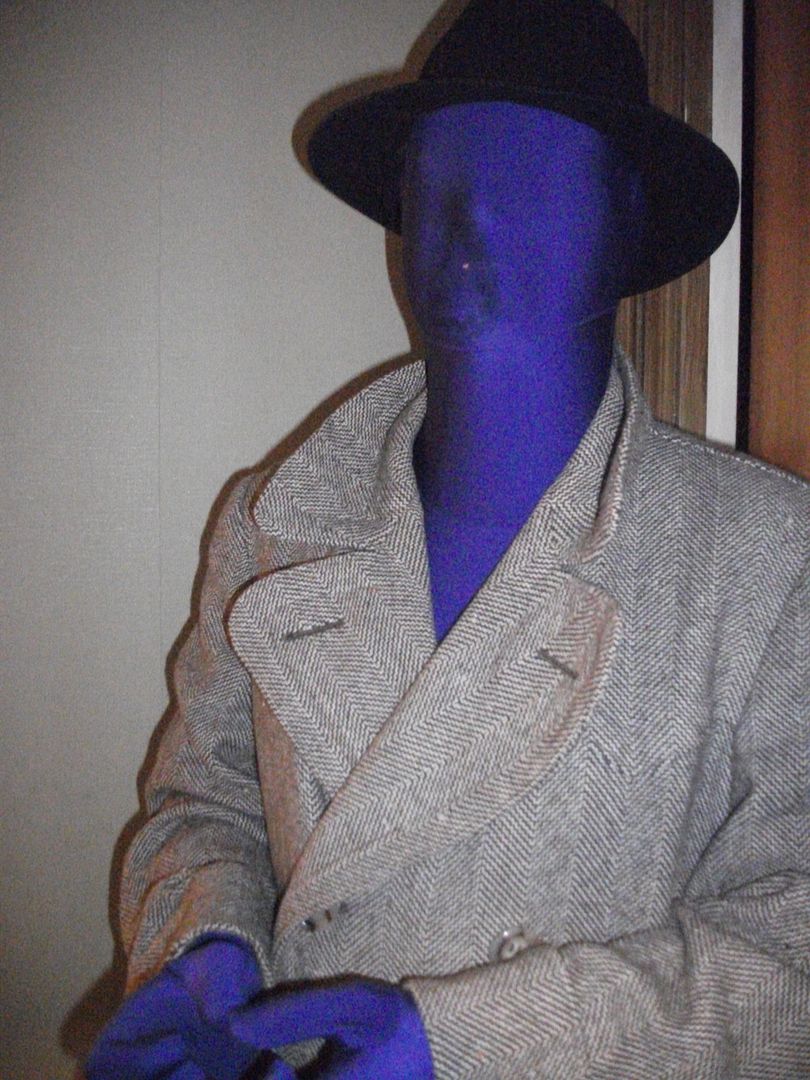 This is my first time breaking into modelling so my skills are as green as my computering skills- but here goes.
My plan is to make a number of locations for filming my own take on the books. I've got enough space for four planned layouts, the Ballahoo tunnels are to be my test plank. I'de planned to do my layouts in OO but later joined the Scalefour Society at the NEC so its an 11th hour change into P4, which has dramatically increased the non scenic curves! Trying to scratch build everything in fine scale will mean progress will be slow but it will be unique and hopefully look something like the 'real' thing.
Anyway here is my start.
I decided to paint my walls before put up the shelving bracket. I've always wanted a black and red room and it seemed like a good time to do it. To fix the heavy duty shelving brackets on I first put on a dado rail and made some wood batons going vertically to support the weight. It looks good and I was pleased. Later however I found out that the dado was on an angle due to a warped level gauge and the shelving brackets tilt up and down ( I live in an old house so and the walls are anything but strait ). Still this result was disappointing but I had put on so much 'No More Nails' along with screw plugs that there was no going back. My carpentry skills have come a fair bit since putting these up and i've gained more power tools to make quicker and more more accurate cuts. Making the baseboards level and getting them to line up was a real pain. I found the lowest point of all of the brackets and placed 2p coins along the rest to make them level. I lost count how many times they fell off, but now have made permanent bits of wood of various sizes that are screwed on. I won't be using the brackets again but do like the hovering effect it gives off and there are no legs blocking my walkway.
I've come up with a good system for making base boards. Anyone who has watched Right track part 5 will be familiar with Barry Norman's technique of constructing the woodwork frame. Instead of cutting strips of wood and glueing blocks in between them. ( its a good system as solid wood frames warp ) I brought a number of interior door from the dump. Got 10 for £8, but that was a lucky bargain. I talked to a different guy a few days earlier and he wanted £50. It really helps to ask the right person. I then got out a circler saw and cut then in about 8cm strips. Interior doors have a cardboard honey-comb structure and as long as your not going to jump on it its quite sturdy. Keeping the honey comb together also means you do half the cutting. The two long edges should have a solid wood length going down them. Cut one of these off with the circ saw and you'll have some wood that you can cut up in to blocks and put them into the strips of the frame where you insert screws- you will probably need to plain the edges to get rid of the glue to make it fit snugly in the places where you clear out the cardboard. Snug is good but you fon't want to force the blocks in as it will widen the strips.If you have a small remainder of the other edge take out the solid wood as it will be useful for another day.Now that i've found my camera I'll document my next board being made. My first lot aren't perfect but I should have it cracked next time round. The advantages of this set up is that its cheap, light weight, should never warp and the design lends itself to open or solid top construction.
As 'The sad story of Henry' involves a second bore being cut I have made an identical board that fits in front of my door and can be put away. Having two interchangeable boards will mean i can do both stories with the single and double track. As the Dalby and the TV series got the imagery wrong I felt determined to have a go at making it right. Its been said that the story doesn't stack up in terms of realism but I made a post on it in the 'most un-Awdry like stories to make it more plausible as a story ( going along the lines that an engines co-operation is needed along with the driver & fireman's to work).
s1340.photobucket.com/user/steves17/media/P2260462_zps442702a7.jpg.html
.
Making the second identical to the first board was a challenge as it had to be perfect for everything to line up. I'm not making things easy for myself but if i can pull it off then i'm golden for the Knapford.
To incorporate the large corners i have made use of my window. The house has thick stone walls but a space sticks out where the windows are.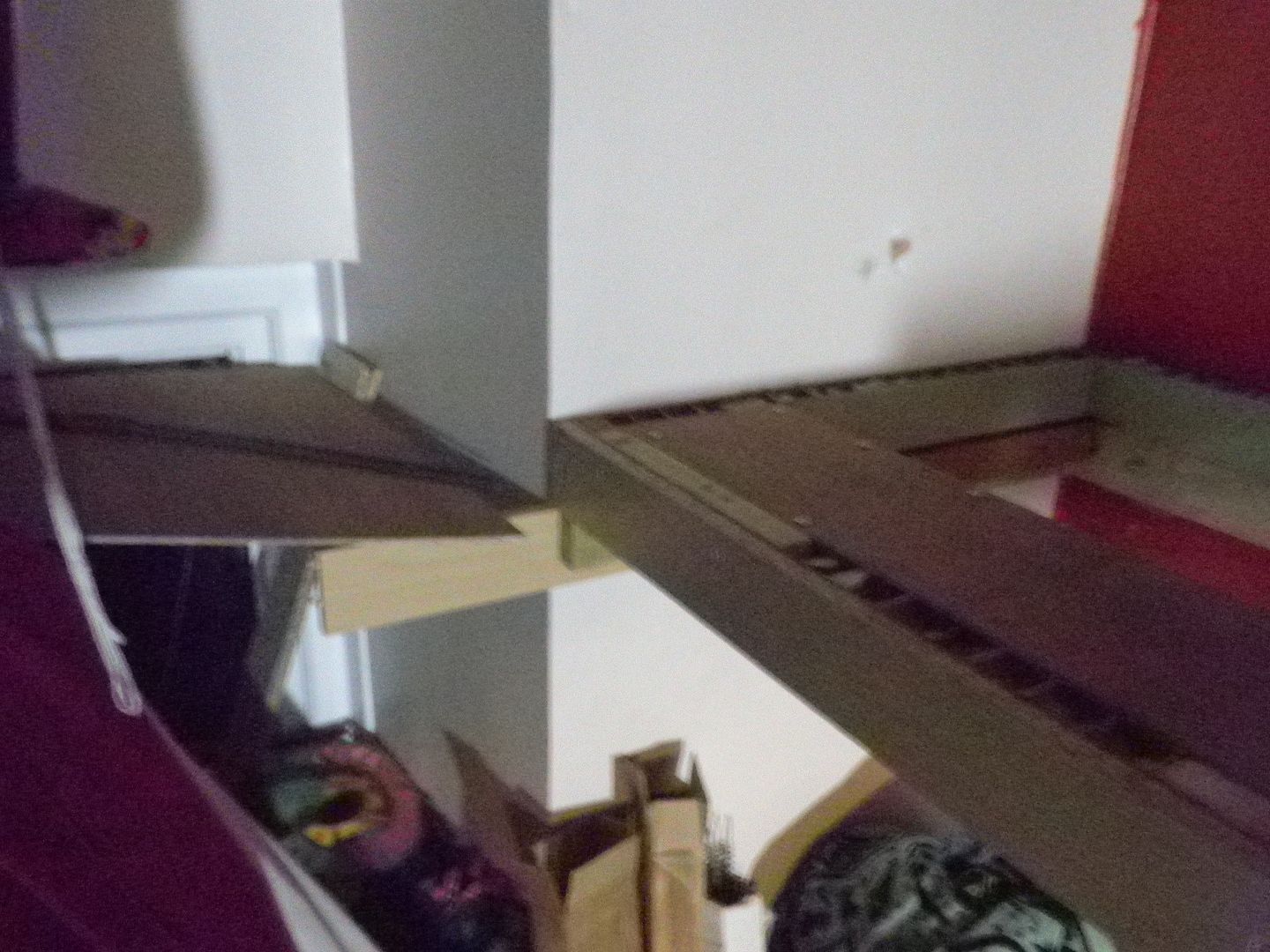 I've managed to get a 3ft 6" curve on the outside track. Sub 4ft isn't ideal but there is no other way i can fit in. Engines with long wheel bases- which means most main line steam engines need to have side play put in with the driving wheels. I'll turn my hand to this at a later date. I have a Halegen metropolitan class 28 (Boco) so will probably try converting him first. Disels are much easier in general and i might be able to get away with dropping in some P4 wheels. Might try Diesel as well as i have an 08 ready to be converted. Better build a few wagons and coach bogies first though. Wheels should be sprung to stop engines bouncing up and down, but i might try that when i build a chassie for a J70 ( Toby), the Hornby and Bachmann ones are well over sized.
The layout has the tunnels inverted so they can be put on the ends of the layout and hide the corners. The other end will be fed by a larger curved cassette that can be put away as it splits my L shaped room in to. I won't make it until i make Wellworth yard on the other side of my room, so thats a long way off.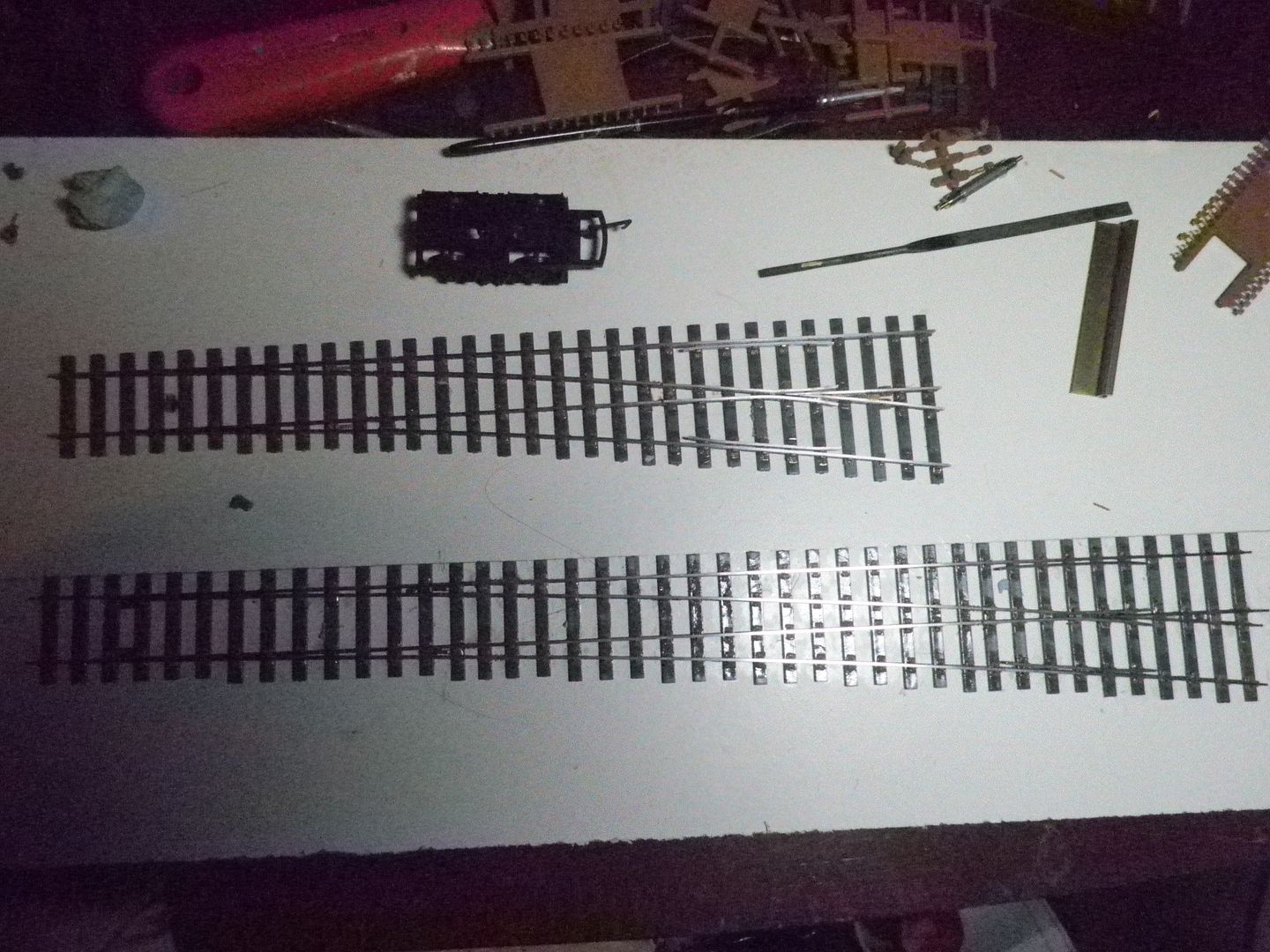 I've made my first two Exactoscale turnouts. Took a bit of head scratching and swearing but i did it and my ebay brought p4 trucks go through them nicely. I was dreading making my first point but the kit is well made and i only went a bit wrong at times. A few of the chairs took a battering when being cut off the timbers to get the gauge right but no one will ever notice them when the track is weathered. The kits aren't cheap (£50 or so) but i was happy to pay out and get it right rather than fail. The next two points i will make more myself to save money and the following ones i will try making from completely from scratch. There are jigs for making switch blades but i think i will stick to buying factory machined ones at least for a while as they are the trickiest. Barry Soloman's dvd on track building along with Knuckle's postings have been a big help.
I'm not dyslexic but find visual instruction much better for learning what to do. I've said it before in other posts but the Right track DVD's are a god send for serious modelling. I would also recommend Tony Hill and Rail Model for scenery. Woodland Scenic's DVD also shows some good techniques but i would keep a finger on the fast forward button as they bombard you with their american sales pitch every three minutes or so.
I've got some free time at the moment so i'm hoping to make a nice bit of progress with track laying in the next few weeks. Making a device to operate the switch blades and getting the tortoise motor to work are my biggest concerns along with switch polarity but if i can get past those I should be ok.