Post by Corbs on Oct 13, 2013 22:01:31 GMT
As it's the current fashion for Hollywood - to reboot and relaunch every franchise possible, I thought I'd do my part. This is something I've wanted to do for years, but never had the time, space, funds or courage to do.
I'm going to copypasta a load of posts from my blog over on RMweb, so apologies for the super long post, hopefully it'll bring us all up to speed.
"I've finally embarked on a project to model the fictitious NWR as featured in The Railway Series by the Awdry family.
I'll be putting my own spin on this, giving my version of how things could have looked. After all, a lot of technical details by the rev. Awdry were often 'retcons' to explain away the choices the artist had made (famously disagreeing with C. Reginald Dalby over unrealistic locomotives).
Inspired by Gavin aka Knuckles' own uncompromising replicas of the locos as featured in the books, I hope to come up with something adventurous and fun. "
NWR No. 704 'Gordon'
So, firstly, the numbering scheme...
I always thought it a bit odd that a railway the size of the NWR would have such a small fleet. In 'The Island of Sodor' book, Wilbert refers to many other locomotives not featured in the stories, but the linear nature of the numbering does help kids with counting and recognition of characters.
I've decided to re-categorise the locos so I can fit more in while partially retaining the original character numbers.
So, my new numbering scheme uses the power classification as the first number, followed by the number in the books. Thomas will be 301 (As an LBSCR E2 loco was power classification 3), Henry 503, and Gordon 704.
For my donor loco, I acquired a Hornby railroad 'flying scotsman' unboxed for a very good price. I wished to run an ex-gnr tender, so hunted down the bodyshell from a3 'cameronian' on ebay for about a tenner. Comparing the two, I wanted to have the details included with the a3, as well as the superheater, so decided it would be less effort to replace the banjo dome with a round one, and use the a3 bodyshell. Cutting off and replacing moulded handrails is a bit involved for me at present.
'Gordon' is, in my universe, a 2 cylinder rebuild of a prototype a1. I wanted to use some beefier cylinders, so got hold of some stanier princess examples, again from ebay.
This is my first adventure into proper model modification, so it was with a small amount of trepidation I removed the a1 cylinders.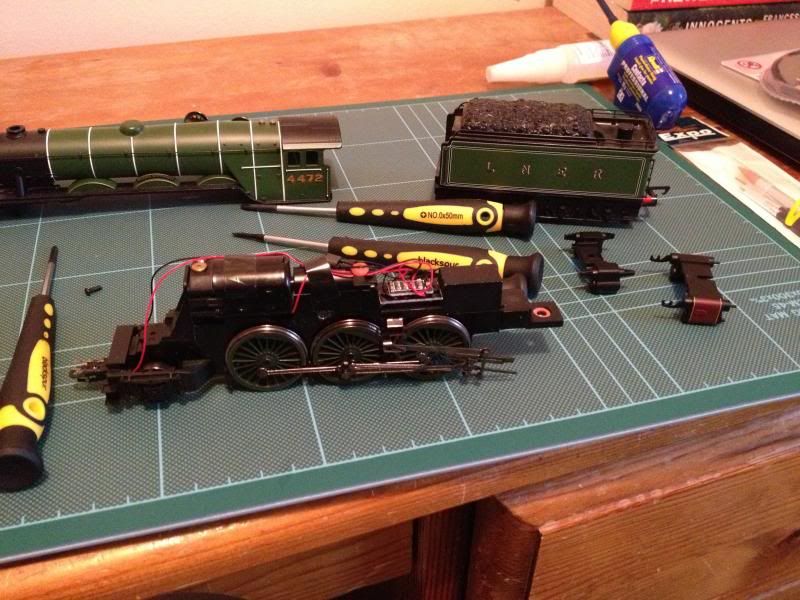 I wanted to retain the Gresley valve gear (Partially as it's probably biting off more than I can chew to change it at this time), so it required a slot in the cylinder to hold both the piston rod and slide bar thingy.
I removed the back of the cylinders and inserted a piece of plasticard, cut to size. Reattached the cylinder ends and marvelled at how I'd overcome this so easily, put it back on the chassis, looking good, then stuck the body on....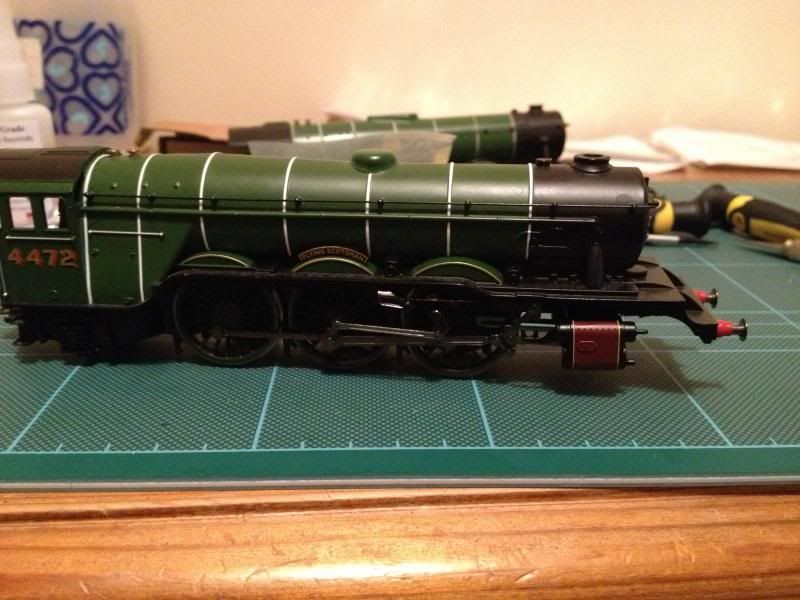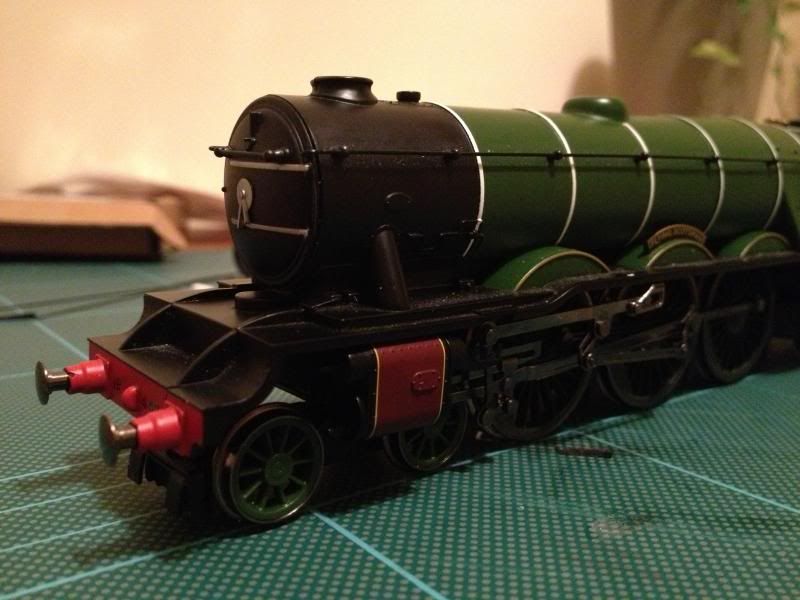 Overall, I'm pretty pleased! Taped in place, everything moves ok so I haven't wrecked it. Needs finishing off which I need a few more tools for.
Next up, need to dremel out the horrid moulded coal from the GNR tender to add something a bit properer!