Post by Sleeper Agent on Feb 7, 2014 23:22:02 GMT
Well if the Skarloey can lease the Kirk Ronan-Grovan's Gate section all things are possible in the world of fanon. Like you say there's no obvious revenue earning trade to really back it though, apart from general trade between the towns. I actually got that GNSR book amongst a few others but having been away for the last two nights haven't had a chance to dissect it yet, not so much steam surprisingly but plenty of horse and internal combustion service examples in photos and text.
Coming back to the road rail vacuum period the tram road notion definitely has merit especially in winter when the roads would of turned to mud but yeah it is the perfect setting for a mini 'Jack and the Pack' spin off saga covering an enterprising company that then had to readjust it's monopoly when the NWR rocked up and under the shadow of WW1, almost writes itself!
I haven't really bothered to read Tom Rolt's chapters in the Martin Fuller's excellent books but probably should lol. Opening the anthropomorphic can of worms always gets things messy fast but it's a similar things with unseen Fred as his counterpart was built from two while Sir Haydn is/was likewise a Frankenstein of the three Falcons. I do like Awdry gives Thomas that remark in the stand alone version of Tom Comes to Breakfast bit just easier to go along with that the engines are only sentient within the stories.
I suppose that's true about the double track, i've just never looked into rail barge/boats much tbh.
There did seem to be a private line on Ed's branch below Suddery but it got smaller and disappeared in later maps. Salty surmised it was the location of the old station or at least the harbour but it seems a bit too far south to me as I pictured the former line heading pretty much east where the 'Castle' text is.
www.deviantart.com/01salty/art/The-Ultimate-RWS-Sodor-Map-Edit-773336958
Aye i've got all the W&U material out there, or at least the obvious stuff and there only seems to be those tow photos with the van in it. I'm sure there must be some others of it post transfer in hopefully better def but it seems odd no one's brought them up. Anywho if/when I get round to Elsie she'll have the feature.
Umm yeah if you can find the article i'll certainly give it a read. A VT in G3 should be fairly straight forward to scratch in light of a detailed 3D design being blown up but i've not really settled on any prototype for Hatt's stable so anything to compare dimensions etc with is a bonus.
Sans pony there actually is a tank engine version of James out there (6th image)
www.ebay.co.uk/itm/Waddingtons-Thomas-The-Tank-Engine-Action-Game-100-Complete/333669702231?hash=item4db0439a57:g:7psAAOSwUvheMHDI
It's certainly a different set of names from the usual. I'm a comics/MCU fan as well (it'll be interesting to see Natalie play hopefully a fun role again under Waititi) so quite familiar with the handles but Wotton Tramway tribute aside a little lost about the reason for the W&S sale of a six wheeler and No.4's absence. Presume you simply haven't got anything lined out yet but perhaps he could be Thor's brother?
"Balder's moving!"
If not a duplicate list/cannibalised addition to the stud perhaps one could be renamed Mjölnir once de-mounted like Stanley

I really do like the Midlandesque style of the livery and the safety covers (never warmed to thin cone type on early Manning/LBSC locos). I've no real idea what saddle tank i've in mind for W&S No.1 and it'll depend on what's available as well but something like example might look nice as No.4, the close livery certainly give's a good impression

www.stationroadsteam.com/7-14-inch-gauge-black
,-hawthorne-0-4-0st-stock-code-7863/
Found out afterward Lucinda is actually the name of a boat in the post classic era show,
ttte.fandom.com/wiki/Lucinda
so not off the beaten track as I thought but prior to that did think the name could work as a pun of sorts, Lou Cindar, Ash Lee, Bernette/Sooty Cole, Phill Fee. Not related as such but Pugsley could also work for for an 0-4-0st, any idea when the scots coined 'pugs'?
Well then high time for another long winded instalment
For this one lets concentrate on the worlds most loved mogul. Here's....
James
Introduced in Thomas the Tank Engine released in October 1946,
his existence may of remained nothing more than a brief debut but thanks to the enthusiast Eric Marriott (who was hired as Editor for Edmund Ward Ltd in January 47) along with a slew of letters from children requesting another book Awdry was asked in early 48 if he could write some more stories of a similar nature. Thus it was that James the Red Engine was quickly released by September of that same year.
Through Payne,
and later Dalby's input he looked somewhat like a Midland Belpaire firebox 3F with a pony truck added but no prototype truly matches up. It is interesting to note from the get go James had his narrow two telescopic ring boiler and iconic main frames reaching out to his bufferbeam but prior to Dalby's run
Awdry drew the latter as short quarter circles (the ones he produced with Barbara Bean have never been published to my knowledge-TTTTEM 'A Splendid Red Engine').
Seeing Red
Post spotlight James only got a brief mention in Thomas's second book but was seen again in Troublesome Engines and this marks the moment the colour of his roof matched up with the other engines.
Said book was released in September 1950 and according to Feb 1994 issue of Model Railway Enthusiast 1951 was the year that Awdry commission a model of him. The prototype was an 'Austrian Goods'
and it had a black roof from what can be gleamed.
Vexingly these dates are suspiciously close to each other but trusting the article means Dalby was the one to introduce the black and red combination and he stuck with it to the end of his run. Curiously Kenny revived the all over red when he took the reigns
and then the Edwards continued with it until Enterprising Engines.......Oliver seems to be the reason Duck gained a brass safety valve cover in his book and at the end of Little Western, with James was it simply down to the Rex illustrations in the previous book?
With Spong at the helm for Christopher's continuation of the series red once again ruled the roof and this is how he is ultimately depicted.
Discounting James's first day in Thomas's book then tallying it up we come to thirteen (fifteen if including Spong's stand alone Christmas ones) books with red and eight with black. Personally I consider black to be correct as his cab roof and sides do not flow continuously into each other as with say the Stirling Singe prototype but it's modeller's choice and is what Awdry actually went with on his Tri-ang 3F model bashed in 75.
Lining
Carrying on with colour history James's lining was black up to Main Line Engines where it became blue.
1948 on his cab plate, the year his book came out.
When Spong first took over it was light
but later in Henry and the Express it was back to dark.
In Wilbert the Forest Engine it again became light blue (likely the colour was already mixed

)
and finally in Thomas and his Friends it was once again dark, his ultimate depiction in the RWS.
Basically make what you will of the variations!
The Retcon!
According to the holy trinity James is a Horwich engine based off George Hughes's superheated update of Aspinall's 'A Class'......beyond that though there is conflict!
In Sodor Reading Between the Lines Christopher Awdry states Hughes rebuilt one of his 1912/3 builds with a pony truck in order to try and cure their 'nosing' when running at speed. None of the later categorised '27s' or '28s' were built in 1913 so running with this James would of been a member of the twenty strong 657 class built between March and October of the previous year.
Curiously in the 86 annual he adds that the added pony truck was also removed.....
I have no idea why he added it in all honesty and without mention of enlarged drivers either there is no obvious reason for the LMS to of singled him out for sale to the NWR.
Turning to his farther's book The Island of Sodor James is a fictional build and for the benefit of those without a copy here is his full bio-
'A mixed traffic 2-6-0 from the former Lancashire & Yorkshire Railway Works at Horwich. In 1912/13 Mr Hughes built his Class 28 superheated 0-6-0 tender engines as a development of Aspinall's Class 27. They were powerful goods engines, but had a tendency to be nose-heavy especially when used, as they often were, as relief engines on excursion trains and driven at speed.
It is not generally known that Mr Hughes, in an attempt to counteract this defect, built the engine we now know as James with 5' 6" coupled wheels, and a pony truck in front. The design did not entirely produce the improvement hoped for, and after the Grouping the LMS sold this engine to the NWR who have now corrected most faults in the design including the wooden blocks with which the locomotive had been fitted (TTE/56,60).'
The wording could be a little more succinct but the bit about Hughes
building
an engine
with
5' 6" and a pony truck is clear enough. With the exception of Hoy's four-cylinder compound rebuild of 4-4-0 No.1112 the L&Y did not exactly go into 'one-offs' while Horwich mostly built engines in lots of twenty, though a few lots were ten strong and in the case of the banking 1510 class just five were built, thus if playing devil's advocate one could argue James might of had some brothers

Opposing this thought of fancy you could say he was in fact part of the twenty strong 657 batch in the same way experimentally superheated Nos.898 and 900 were part of the saturated boiler 41 Class built in 1906, but factoring in enlarged drivers would require the boiler pitch to be slightly raised assuming he had the same piston valve arrangement and this in turn might effect his cab and boiler fittings and with the pony truck extension as well the 28 class link becomes tenuous.
When did he arrive on Sodor?
As mentioned above Wilbert and Christoper's bios for James are contradictory as RBTL and the annual state James was sold in 1923 while IoS mentions he was sold after the grouping. On the surface they seem harmonious but the trouble comes in with Thomas the Tank Engine. At the end the book Thomas is given promotion of his own branch line but IoS states land owner Jabez Croarie only approached the NWR in 1924 about extending the Elsbridge branch line in order to export stone from his quarry. After hard bargaining with Topham Hatt it was agreed that the railhead would be extended on the condition that his company bore half the cost of the needed tunnel at Hackenbeck and provide stone for the bridge across the Els river and its construction was competed in 1925. Factoring in this James could not of arrived in 1923 as the NWR had no active intension of extending the branch line until intervention from Jabez. 1925 is when I see Thomas taking over for Hatt's 'coffee pots' as the bridge wasn't completed until that year but with the tank engine spending some weeks at Wellsworth yard it could be argued James's first day crash took place in late 1924 and Thomas's promotion was not quite immediate.
The real James
In the history of Britain's locomotive designs there were only two mogul classes with inside cylinders, they were.....
Caledonian Railway 34 Class
These engines hark back to McIntosh's attempt at a superheated update of his 812 design. Four were built in 1912 but the superheaters created a significant overhang which lead to frame stress and even cracking.
When additional engines were later required the same design was built once more but with a pony truck slapped on to address this and these five builds became the '34 Class'.
Somewhat unusually the extended main frames were neatly covered over effectively creating a convenient platform for workmen to stand on but if removed and with a standard shape bufferbeam plate the front would actually match up quite closely with James's depictions.
Stats
30 Class
34 Class
Length over buffers 53' 6" 56' 0"
Weight in working order 51t 2.5c (engine) 37t 18c (tender) 54t 5c (engine) 37.5c (tender)
Water capacity 3000 gallons 3000gallons
Coal capacity 5.5 tons 4.5tons
Tractive effort (85%) 25409lb 22409lb
Cylinders 191/2"x26" 191/2"x26"
Boiler pressure 160lb 160lb
Boiler dia 4' 91/4" 4' 91/4"
Boiler pitch 8' 3" 8' 3"
Carrying wheels --- 3' 6"
Driving wheels 5' 0" 5' 0"
Tender wheels 4' 0" 4' 0"
Loco wheelbase 7' 9"+9' 0" 7' 3"+7' 9"+9' 0"
Tender wheelbase 6' 6"+6' 6" 6' 6"+6' 6"
Glasgow and South Western Railway 16 'Austrian Goods' Class
Scotland's second inside cylinder moguls were somewhat similar to their Caledonian counterparts in that the 279 and 16 classes looked very similar to each other apart from the addition of a pony truck but while the 0-6-0s were unloved failures the 16 Class were 'almost a complete success'. With Robinson superheaters the extension of the frames complete with carrying wheels was planned from the start in this second attempt by Drummond,
and even on steep gradients they were good engines but niggling problems meant they were rarely put in charge of passenger trains and with their big ends shortcoming even then ran at reduced speed! The extra wheel set on these engines appear to be fitted to a pony truck rather than a radical axle and with the sandboxes placed between the leading and central drivers the carriers were able to be tucked up quite tightly.
railway-photography.smugmug.com/LMS-Scotland/1911-1918-GSWR-Peter-Drummond/PDrummond-GSWR-assorted-designs/i-FM3mxQb/A
Stats
Length over buffers 58' 0"
Weight in working order 62t 0c 2q (engine) 45tt 19c 1q (tender)
Water capacity 3,970 gallons
Coal capacity 6 tons
Tractive effort (85%) 25210lb
Cylinders 191/2"x26"
Boiler pressure 180lb
Boiler dia 5' 41/4"
Boiler pitch 8' 6"
Carrying wheels 3' 6"
Driving wheels 5' 0"
Tender wheels 4' 0"
Loco wheelbase 6' 6"+8' 1"+9' 0"
Tender wheelbase 6' 6"+6' 6"
Great Southern & Western Railway 355 Class
Across the Irish Sea there existed another 0-6-0 design of interest.
These eight were built in 1903 by the North British Loco Co to Robert Coey's design. Essentially these were just an enlargement of his eight strong 351 class also built in 1903 by the Inchicore railway works. Soon after being delivered from Scotland it was apparent their axle load exceed 16tons which heavily restricted their route availability while also being front heavy and derailment prone. Between 1906-8 all eight were rebuilt as moguls
which remedied all three issues and created the basis for the
four?
strong 368 class built in 1909.
en.wikipedia.org/wiki/GS%26WR_Class_368
An interesting parallel with the L&Y's counterparts is that the rebuilt moguls later gained Belpaire fireboxes and superheaters.
Dublin and South Eastern Railway 'K2' Class
Although actually built as moguls these two Beyer, Peacock & Co goods engines were conceived as 0-6-0s. Realising their axle load would be excessive for the DSER's track there was fortunately enough remaining time for the boiler size to be reduced and for pony trucks to be incorporated into the builds. They were delivered in 1922 but owing to the civil war were stored on Great Northern Railway metals as the north was safer from the unrest and railway targeting. Soon absorbed into Great Southern Railways they were also found to be of use for passenger work. No.462 was scrapped in 1963 while No.461 was withdrawn in 65 but thanks to an appeal was officially saved for static preservation in 67 and eventually returned to steam service in 1990.
Sandboxes aside there's quite a resemblance to Awdry's sketch isn't there?
Sandboxes & steps
Getting back to the L&Y from when the Barton Wright 4-4-0s were ordered in 1879 onwards the high majority of company's engines that had sandboxes suspended below the running plate were concealed behind steps. While hardly unique to these Sharp Stewart engines and similar 4-4-0s found elsewhere in Britain it does seem to have become a deliberate policy at Horwich and this includes the aft boxes as well if present, such as the case with the 2-4-2T designs etc. Exceptions to this rule were the outside cylinder engines such as the 'Pugs', the rear boxes on 0-8-0 coal engines and the 2-6-2Ts due to the nature of their layouts.
Where the sandboxes were built above the running plate no effort was made to conceal the feed pipes, though being spindly they were hardy conspicuous. James's set up in this regard is a little tricky to judge. On his 0-6-0 brothers the fore set sat above the running plate flush with the leading splashers but he has never been depicted with this arrangement.
Running with the RWS images this leaves two scenarios. The first is that the leading steps stay in the same position as the 0-6-0s which would leave the now suspended sandboxes exposed,
or the steps would be moved forward as with the coupled 4-wheel designs such as the 'Flyers'.
The latter makes for a more unique design but not one beyond the scope of reasoning or engineering difficulty and is how I perceive James if being constructed as a mogul rather than being altered from an 0-6-0 as stated in Christopher's bios.
Pre-NWR Livery
His 0-6-0 brothers were very much the dogsbodies of the Lancashire & Yorkshire and were no strangers to passenger work. As such they were painted in the passenger livery with white adorning their red lining. Likewise James would of been treated the same and happily preserved Aspinall 1300 seen here in a post 1902 guise gives us a solid impression of how he would of looked.
Despite being black much like the Caledonian's goods livery the application of this was also to a high standard and normally took about three weeks to apply on a new engine.
First any rust would be removed by scouring with sandstone and washing down with turpentine. For priming two coats of oil and white lead paint would be applied next proceeded with enamel being worked on with trowels and a thicker agent for filling in any hollows.
A thin coat of black stain was next added to guide with the rubbing down stage that followed. Next a white lead and black paint mixed with boiled linseed oil and liquid terebene. For the second coat best drop ivory was applied and for the third same again but mixed with varnish. Next the lining, transfers and coat of arms would be added and then three coats of varnish sealed all of the previous.
The bufferbeam and the inside of the frames instead received three coats of vermilion and varnish while the smokebox, external frames surfaces and wheels would receive a coat of drop ivory black followed by two coats of Japan black.
With a little digging you'll find the odd B&W photo where no lining nor coat of arms can be seen,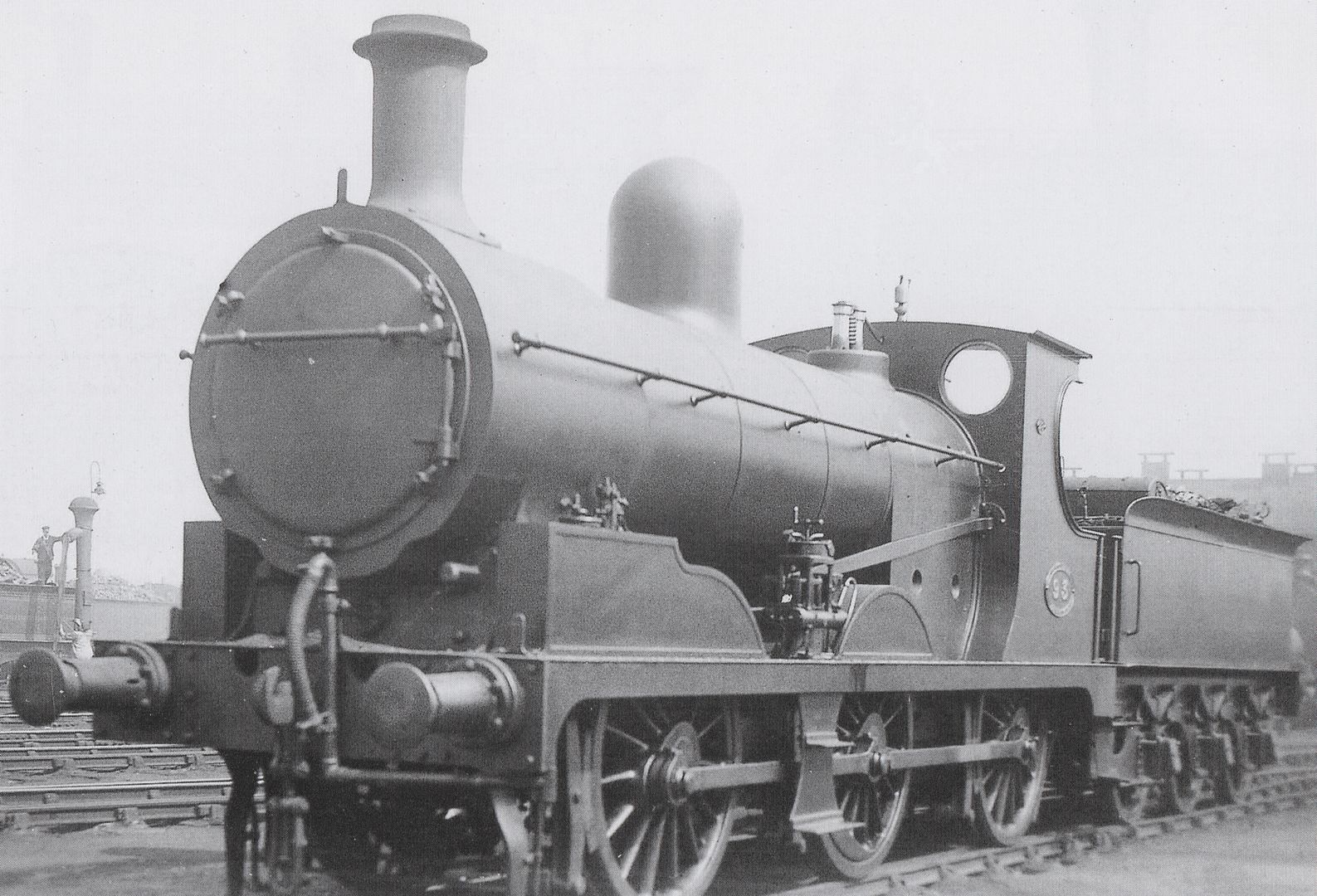 and this photo of preserved 1300 is rather handy.
There are two reasons for this that i'm aware of. The first is down to Great War pressures and engines going through overhaul were pressed back into service with minimal delay concerning the painting stage but this is unlikely to effect James in terms of the year he was sold to the NWR due to how worn the paint would of gotten by then.
1920 or later, the give away is the '27' class plate on the cab, though these were not fitted to the majority of engines.
c1924, a '25' class plate can be seen on the cab.
The second x factor comes into play after such austerity were lifted but is more messy (yay). The L&Y and L&NWR enjoyed a certain level of cooperation for many years and despite opposition from the other railways on grounds of monopolisation they had hopes to amalgamate and were in fact assisted by the Railways Act of 1921. Passed on the 19th of August the Act allowed two or more railways to amalgamate voluntarily before the start of 1923 and on the 1st of January 1922 they did just that. L&Y engines built and repainted during this period had no lining (sometimes), lettering or coat of arms applied and this is the first and most likely of two liveries I am suggesting as a match for James's in 'Thomas and the Breakdown train'.
25 Class. A LMS numberplate has been fitted on smokebox but that's it. The L&Y cab numberplate has been removed and '12053' has been stencilled in its place....given how run down the livery looks this
might
actually be a WW1 application though....
No.1 is an example where lining was applied.
It was taken early into LMS days while this one is c1922.
Concerning the former it's possible its new number had already been assigned but they were not necessarily applied in the first few years and either way no trace is present.
No.12451 - Early LMS days
L&Y lining can again be seen on while 'Lancashire & Yorkshire' lettering and the coat of arms are absent. Likewise the cab numberplate has been removed to make way for its assigned LMS numbers. The numberplate on the smokebox is quite prominent but had one been already fitted to James it's likely it would also of been removed after being sold and so this is also a pretty decent 'almost livery'.
LMS Period
It's difficult to discern where the 1922 schemes end and 1923 applications start. Compared to the Furness works Horwich was somewhat slow applying LMS coats and in fact a good number were either withdrawn still in pre-group colours or went straight into the post 1927 schemes! Official LMS liveries were outlaid in the minutes of the LMS Rolling Stock Committee meeting on the 21st of May but this photo taken on the 31st shows how things trickled out from it.
Something close to the eventual LMS lettering applied after the end of 1927 can be seen on this new build but it was not to be adapted at this point. The steel cab plate bares 'LM&SRy Co MAKERS' and HORWICH 1923' but the number is still from the L&Y list and its design along with the works grey lining is very much old school Horwich while this later works grey photo is a much more finalised example of the code A1 livery and 10451 was one of the first five Dreadnoughts to receive LMS numbers.
Some Dreadnoughts did run in battleship grey for a while and sixteen were also painted dull black in 1924. This was presumably to hurry them through the works in order to meet motive power demands but I am not aware of anything similar concerning the 0-6-0s.
5th of June 1926 - Outside Derby Works fresh out from overhaul
c1925 - waiting with the Milfield breakdown train in tow
Essentially if James were to be repainted between the grouping and his time at Crovan's Gate he would of likely looked similar to this model
and the one of the 25 class photo further up so I would recommend the lined but otherwise plain livery applied after the L&Y and the LNWR amalgamated going into the early grouping stage and if need it be can also accommodate LMS numbering as seen in the hybrid examples of Nos.12053 and 12541.
So what did Middleton and Dalby base it on?
James's book pre-dates BR and its adoption of the LNWR style livery for mixed traffic engines while in terms of the retconned RWS timeline the LMS mixed traffic livery can also be ruled out as it didn't exist in the pre-1928 schemes. None of James's 0-6-0 brothers qualified for the post-1927 mixed traffic livery either and even if James 'would of' red lining was only applied on the extreme ends of the boiler+firebox. This pretty much leaves us with just the L&Y goods livery and the LNWR's, both of which don't really fit the puzzle 'in reality' either as they were long gone by the publication of Thomas's book nor does an 'Austrian Goods' angle fit. Basically unless eyes were on the LNER's adoption for its secondary passenger/mixed traffic engines
(which might be possible given the LNER theme in Awdry's sketches) there doesn't seem to be a reason and it's easiest to say James turned up in the alternate lined livery I've suggested but the white can not be 'made out' in the illustrations or the poor artists were simply not able to apply it on such small illustrations and this example of Percy is a 'Super Detail' as Hornby might put it

All things said looking at the K2 again might be food for thought
The above photo was taken in 1977 I believe but the engine was re-painted in 68, prior to that I'm not sure if the livery was still the same.....anyone?
Speed and power
With their 5' 1" drivers James's 0-6-0 brothers were often capable of reaching 60mph when on passenger duties and so with an extra five inches he should be able to at least match that on a good run.
James's power is more difficult to ascertain. The 27 class with their 18"x26" cylinders and slide valves had a 21,130 lbf tractive effort rating while the superheated 28s with their 201/2"x26" cylinders and piston valves had a 27,405 lbf rating. Though being worked hard with seasonal express trains over the steep gradients between Ancoats Junction and Blackpool as well as Bradford and Blackpool led to increased levels of maintenance they still managed to cope with the loads in the 330ton range and i've seen the odd photo of them pulling 10 bogies. My knowledge is purely armchair so as always take what I type with a pinch of salt but factoring in the same boiler and superheater set up as a 28 class member his tractive effort would be lower thanks to those modestly larger drivers, plus he would also have less adhesion weight thanks to his pony truck.
Even with a clear run through Wellsworth it seems doubtful he could pull a 15 coach strong express up Gordon's hill unaided and keep time in all honesty, although that amount mentioned in 'Bowled Out' might not be a set in stone figure, especially across several decades. It might well be possible the NWR managed to improve on Hughes's design such as the 'Top & Bottom' or 'Twin Plug' superheater he would likely of been built and in Chronicles of Steam E. S. Cox implies a better cylinder block design could of been substituted during overhaul for little additional cost with but even so James will never be 'as good as Gordon'
Speaking of NWR changes....
It's no secret the Horwich retcon stands apart from how James looks in the books

The same is true with Awdry's models but focusing on the illustrations we can see they make him quite stumpy for starters. This 'compression' is hardly unique to James as one can easily see the same with Thomas, Henry etc though some illustrations do at least spread out his wheelbase.
Anywho below is a series of edits that try and help bridge the gap.
As can be seen in the third the Fowler replacement comes off surprisingly high compared to his L&Y types.
1947 - No.12138 in for overhaul at Horwich (no idea why a Fowler has been pushed up against it but most handy
)
I hadn't actually intended to replace his cab in any of these but have in the interest of common imagery, perhaps it was also damaged in his first day crash

The final one aptly shows his ultimate form. The L&Y loading gauge is quite generous by most railway standards and actually allowed him to hit a higher limo bar than Gordon! Even raised to accommodate the Belpaire firebox James's boiler pitch isn't that high in the grand scheme of things which is how his fittings are able to be so tall but with a NWR boiler substituted I took the liberty of trimming him down a shade.
Right that's your lot if you've made it this far. Feedback for challenging any points or for suggesting any changes is welcome.
*I have't really gone into his Fowler tender here but you can find a post covering them at the bottom of this page if you wish to peruse,
sodorislandforums.com/thread/84/rws-technical-issues-topography-liveries?page=132
and if you're a real glutton for punishment a post breaking down Horwich's various 0-6-0s can be found here (forth from the bottom).
sodorislandforums.com/thread/84/rws-technical-issues-topography-liveries?page=128&scrollTo=331606
Stats and titbits
Assuming that the same chimney was fitted to him as the 657 batch then combined with a 8' 1" boiler pitch this would make him the tallest engine on Sodor
James's coupled wheelbase is actually greater than that of a Black 5, perhaps Christopher knew this when he wrote about him groaning horribly on the curbs at Tidmouth dock

Tractive effort is unknowable thanks to the larger wheels factor but the 28s were rated at 27,405lbf while the 27s were 21,130lbs (same boiler pressure rating). Between these two tractive effort figures I think we can risk saying James falls in-between them. James's ability to (usually) pull the express unassisted has always seemed questionable if going with the 15 coach figure from Stepney's book but purely looking at tractive efforts Great Northern as built was 29,835lbs and the Black 5s were in the region of 25,455lbs. Make what you will but i've not seen his o-6-0 brother pull more than ten bogie coaches and even that is rare in photos. 
Boiler (inner) dia should be 4' 1" and external dia with cladding 4' 81/8"
Boiler length, assuming it's the same L&Y standard type would be 10' 43/4"
Firebox length 3' 41/8"
Superheater length ??.....about 4' 2" by my estimate.
going into them properly would be something of a separate discussion and as James appears to bugger up his vaguely depicted one on his first day in Sodor i'm not going into it here
Fowler tenders at the time were the beaded type with a solid bulkhead, so short of it being a Croven's Gate build job that's the replacement he would of had sent out. Some notes and a picture of the solid bulkhead can be seen in these model instructions.
www.brassmasters.co.uk/Downloads/Fowler%20tender%20replacement%20front%20instructions%20v1.0.pdf
Pegnsean backup
web.archive.org/web/20170516091829/http://www.pegnsean.net/~railwayseries/james.htm
Hi Jim.
Sorry for the delay but I wanted to double-check my notes before getting back to you. I've included links for each example for you to try and verify against my beliefs of what they are. Any problems with the links then let me know, though just to be clear I do not own any copyright for these so best not post them about publicly. Just a reminder I have adopted the table format listed on pages 6-7 in 'An Illustrated History of LMS Locomotives Volume 3' by Bob Essery and David Jenkins for the tender types.
L2 Tenders - received from the 294 class in BR days. They look similar to the M1 as there were 5 rivets long the bottom and top of the tank but the chassis had fewer and also elongated holes between the axels boxes.
No.57554
i.imgur.com/vJfBmWo.jpg
i.imgur.com/84kWUaF.jpg
First photo taken 2nd of August 1957, second is more clear, taken April 1960. My prior photo c1945 shows engine with a M1 type.
No.57586
i.imgur.com/29GzV5M.jpg
Loco still had original type in August 1937 but gained the L2 type some time prior to this 1953 photo. A 1961 photo shows it still with this type, just one month before it was withdrawn.
No.57590
i.imgur.com/pIqLyn3.jpg
Date unknown but with the Ferret & Dartboard must be 1956 or later. In 1952 loco still had the original type.
No.57607
i.imgur.com/xrvJVAM.jpg
Taken March 1957. Unsure when it was gained but by August 1961 it had been replaced with a P2 type.
No.57615
i.imgur.com/uGta4Cg.jpg
Taken 27th of July 1953. Unsure when it gained this by some margin but by the 22nd of May 1962 the original type had replaced it.
No.57618
i.imgur.com/Zxaoze0.jpg
Date unknown to me but I'm confident it is after my 1960 photo when it had a P2 type.
I believe the original type was still present on the 17th of Feb 1950 but some time prior to this 1960 photo the L2 type had been gained.
M1 Tenders - received from a 721 'Dunalastair I' class. Plates at the front end were higher to match the engine's cab. One way to identify them is that there were 5 rivets horizontally spread out along the bottom and top of the tank.
No.17554
i.imgur.com/9kG7C13.jpg
Photo c1945, by April 1960 it was running with a L2 type. A photo taken in 1957 also looks like its the same L2 type, certainly the tank height looks lower though the angle makes it hard to fully confirm.
No.57581
i.imgur.com/qWulI1w.jpg
Photo taken 1957. Loco kept this until withdrawal, though prior to gaining it ran with a P2 type.
M3 Tenders - originally from the 600, 908, 918 and 179 classes. They had higher tanks than the ones used on the 812, 652, 30 and 34 classes.
No.17552
i.imgur.com/QuGNfAc.jpg
Taken post 1927, no other photos available to me. Tender has already gained the horizontal lip along the bottom of the tank.
No.17575-57575
i.imgur.com/VmgDRDN.png
i.imgur.com/bwhlPCU.png
First photo taken October 1947, second taken 16th of May 1951. Loco had reverted to M2 type by 28th of July 1958 and it was carrying the Cycling Lion.
No.17577
i.imgur.com/A9VSAhu.jpg
Taken 19th of August 1962, no other photos available to me.
No.57614
i.imgur.com/YnLSErX.jpg
Gained some time after 1953, photo taken in 1960. The loco still had it by 1962 and given its withdrawal date in October that same year is likely to have been scrapped with it. This M3 type has a higher horizontal lip along the bottom of the tank than usual.
No.57633
i.imgur.com/1KYcWFu.jpg
Taken 1952, gained sometime after September 1949. No later period photos available to me.
M4 Type? Built exclusively for the nine strong 55 class, though most (if not all) of these later ended up on the 294 class.
No.57642
i.imgur.com/qXvzekw.jpg
i.imgur.com/iAHXmSz.png
First photo undated, second taken August 1952, neither example carrying crests or writing. By the 28th of July 1958 it had been replaced with a P2 type.
I am having trouble confirming this is the type paired to 57642, as there are very small holes in the frames between the axels. As built the frames were solid, though the one attached to 14606 (ex-CR 52) had its frames modified but in this case the added holes were bigger.
P2 Type - received from Pickersgill's 300 class. These were very similar to the 812/652 tenders but featured coal grills and slightly higher front side plates to match the engine's cab.
No.57557
i.imgur.com/w0aZGgV.jpg
Photo taken 1959, only one I have of this loco. Loco was withdrawn in September 1962 so quite possible it still had this type at that point.
No.57571.
i.imgur.com/svRbwfG.jpg
Taken 1958. Less clear photo from 1957 shows the same type and loco still has it in September 1960. I assume it was kept it when withdrawn in April 1962.
No.57576
i.imgur.com/z2m1NBL.jpg
Taken 1953, earliest photo I have of this member but the sequence of proceeding dates show it kept and was withdrawn with this type. After this photo the Cycling Lion was seen and the usual horizontal lip along the bottom of the tank can been seen.
No.57581
i.imgur.com/JscIVmn.jpg
c1950s, last photo c1938 showed still with original type but by 1957 a M1 type had been substituted and this was retained.
No.57583
i.imgur.com/q9MSUqZ.jpg
Taken 10th of July 1959 but no further photos to know if it retained the P2 type till withdrawal. Loco still had original type on the 4th of June 1949.
No.57589
i.imgur.com/erqvev9.jpg
Taken 17th of August 1955, no further photos but loco still had original type on the 30th of April 1936.
No.57595
i.imgur.com/NhSvH8k.png
Taken 13th of April 1958. Highly likely loco kept this type when withdrawn in November 1959 as my May photo from that year shows it with the cycling Lion and the highish horizontal lip along the bottom of the tank is consistent. Loco still had original tender type on the 31st of August 1939.
No.57596
i.imgur.com/NEcqAn5.jpg
Taken 1959. 16th of September 1957 and prior photos going back to 1927 show original type, though looking at the horizontal lips I think one original type was swapped over for another between the 29th of September 1953 and the 16th of September 1957.
No.57601
i.imgur.com/9LgEmkd.jpg
18th of August 1962, loco withdrawn with this P2 type. 1952 and an undated proceeding photo shows it still with original type.
No.57607
i.imgur.com/gn7qt9O.jpg
Taken August 1961. P2 type has replaced the L2 type seen in March 1959.
No.57611
i.imgur.com/zZjJnEb.jpg
Taken some time after my c1934 photo as that photo shows it in much better condition and without dog clips. By the 31st of March 1961 an original type had replaced the L2 type.
No.57618
i.imgur.com/uwyDYdo.jpg
I believe the original type was still present on the 17th of Feb 1950 when it carried 'BRITISH RAILWAYS' lettering, this photo was taken in 1960.
*No.57618 is said to have been one of 'The Little Mill Twins', in which case the P2 had been swapped for a non coal grill type but the lack of a vacuum pipe leads me to conclude it's a case of mistaken identity.
www.rail-online.co.uk/p289522654/h1627E315#h1627e315
The blurry undated photo listed in the L2 section is also said to be 57618 and that one I am more inclined to believe...are you able to shed any light on the 'The Little Mill Twins that operated past Drongan? This link states No.57618 for the 812 and No.57644 for the 652,
www.railscot.co.uk/img/54/103/
and this checks out with a photo I have of the two passing Annbank station in April 1962 (No.57644 is piloting).
i.imgur.com/pruKaU4.jpg
No.57622
i.imgur.com/jqXisc9.jpg
23rd of June 1957. 1959-22nd of May 1961 photo show it with an original type, fairly likely it withdrawn with it in July 1962. My 31st of August 1936 pic also shows it with an original type.
No.57640
i.imgur.com/JjGJzH9.jpg
Undated but Ferret & Dartboard places it 1956 or later. Loco still had this type on the 22nd of May 1961 and was withdrawn in November that same year. Prior photo taken the 27th of July 1953 shows it with original type.
No.57642
i.imgur.com/83O7kyx.png
28th of July 1958. L2 type has replaced the mystery M4 type seen in 1952. Loco still seen with this type on the 1st of April 1961, withdrawn on the 16th of July 1962.
No.57643.
i.imgur.com/HN2RVBJ.png
March 1959. Only other photo of this member shows it in the pre-1928 livery and with original type.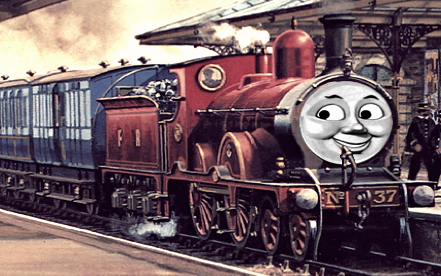 D
on't
T
ry
T
his!
D
erek's
T
rial
T
ribulations
---
Right lets try and keep this game going.....
T
he
S
ad
S
tory
o
f
H
enry
T
he
S
adistic
S
aga
o
f
H
enrietta
No worries as it's useful to have them so compiled during a re-glance. I wasn't expecting you to change anything much as you had already pulled ahead of where I thought you were in the design stage but thought i'd show my cards as there's nothing worse than finding an oversight afterward.
I haven't really taken note of what Hornby's got in their cabs. Detail is always nice of course but generally speaking the cab back head accuracy doesn't bother me much when there's a deep roof and crew present, only on more exposed engines would I be truly concerned to be honest, Skarloey and Rheneas back in the day being extreme examples. That said good to know you're doing the seats and such

I don't really use 'A0' myself but to try and clarify I would be after your 'A0 H1' but with Henry's RWS style cab window and the A0 firebox, where is recedes to avoid the driving wheels. I would also be after a traditional roof with a definitive split between it and the sides rather than the continuous Ivatt style with consequent green all over, basically as on my Spong edit but without my firebox oversight.
*Just to stress this was more of a re-edit than a full blown attempt to make a definitive Henry I.
 
I read about the motor issue and such, I can deal with that and the wheelbase compromise etc so that fine. I'm in no way trying to rush you on this but you were getting a little unsure about demand so was voicing my vote.
 
MTRA301088
  
Getting back to Barrow this comes from a 1916 map.
imgur.com/a/mWiqE
It's too big for the scanner but owning such a large map is useful. Prior i've struggled with the exact layout around here and had been quite oblivious to the spur near Ainslie St. I have no idea what it serves but it's a shame as that is where I had penned for the NWR's carriage sidings.
Even without getting rid of it there might still be enough room for the NWR's interests. For the NWR's loco MPD and exchange yard I would go south of the triangle junction below the triangle junction as there some green sites there ripe for compulsory purchasing and in comparison to the FR's MPD is not much further away from the station, plus goods trains are able to bypass said station

Thought I would throw my hat in the ring in with my own recreation of the Railway Series.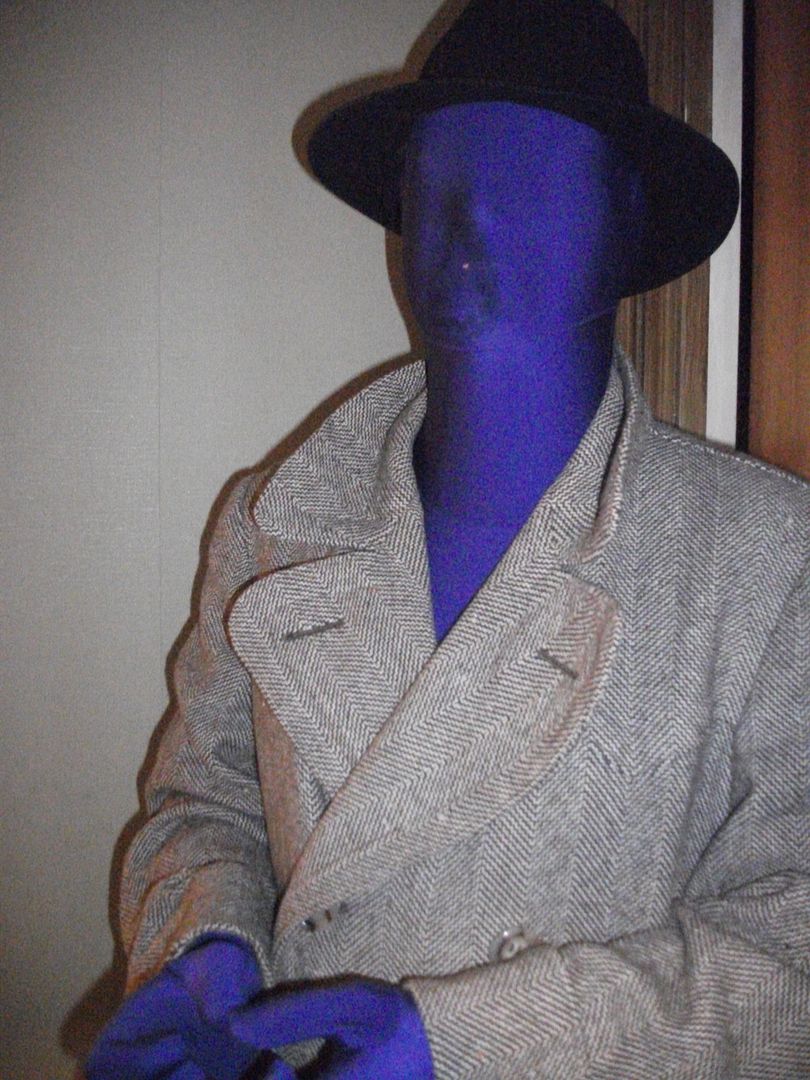 This is my first time breaking into modelling so my skills are as green as my computering skills- but here goes.
My plan is to make a number of locations for filming my own take on the books. I've got enough space for four planned layouts, the Ballahoo tunnels are to be my test plank. I'de planned to do my layouts in OO but later joined the Scalefour Society at the NEC so its an 11th hour change into P4, which has dramatically increased the non scenic curves! Trying to scratch build everything in fine scale will mean progress will be slow but it will be unique and hopefully look something like the 'real' thing.
Anyway here is my start.
I decided to paint my walls before put up the shelving bracket. I've always wanted a black and red room and it seemed like a good time to do it. To fix the heavy duty shelving brackets on I first put on a dado rail and made some wood batons going vertically to support the weight. It looks good and I was pleased. Later however I found out that the dado was on an angle due to a warped level gauge and the shelving brackets tilt up and down ( I live in an old house so and the walls are anything but strait ). Still this result was disappointing but I had put on so much 'No More Nails' along with screw plugs that there was no going back. My carpentry skills have come a fair bit since putting these up and i've gained more power tools to make quicker and more more accurate cuts. Making the baseboards level and getting them to line up was a real pain. I found the lowest point of all of the brackets and placed 2p coins along the rest to make them level. I lost count how many times they fell off, but now have made permanent bits of wood of various sizes that are screwed on. I won't be using the brackets again but do like the hovering effect it gives off and there are no legs blocking my walkway.
I've come up with a good system for making base boards. Anyone who has watched Right track part 5 will be familiar with Barry Norman's technique of constructing the woodwork frame. Instead of cutting strips of wood and glueing blocks in between them. ( its a good system as solid wood frames warp ) I brought a number of interior door from the dump. Got 10 for £8, but that was a lucky bargain. I talked to a different guy a few days earlier and he wanted £50. It really helps to ask the right person. I then got out a circler saw and cut then in about 8cm strips. Interior doors have a cardboard honey-comb structure and as long as your not going to jump on it its quite sturdy. Keeping the honey comb together also means you do half the cutting. The two long edges should have a solid wood length going down them. Cut one of these off with the circ saw and you'll have some wood that you can cut up in to blocks and put them into the strips of the frame where you insert screws- you will probably need to plain the edges to get rid of the glue to make it fit snugly in the places where you clear out the cardboard. Snug is good but you fon't want to force the blocks in as it will widen the strips.If you have a small remainder of the other edge take out the solid wood as it will be useful for another day.Now that i've found my camera I'll document my next board being made. My first lot aren't perfect but I should have it cracked next time round. The advantages of this set up is that its cheap, light weight, should never warp and the design lends itself to open or solid top construction.
As 'The sad story of Henry' involves a second bore being cut I have made an identical board that fits in front of my door and can be put away. Having two interchangeable boards will mean i can do both stories with the single and double track. As the Dalby and the TV series got the imagery wrong I felt determined to have a go at making it right. Its been said that the story doesn't stack up in terms of realism but I made a post on it in the 'most un-Awdry like stories to make it more plausible as a story ( going along the lines that an engines co-operation is needed along with the driver & fireman's to work).
s1340.photobucket.com/user/steves17/media/P2260462_zps442702a7.jpg.html
.
Making the second identical to the first board was a challenge as it had to be perfect for everything to line up. I'm not making things easy for myself but if i can pull it off then i'm golden for the Knapford.
To incorporate the large corners i have made use of my window. The house has thick stone walls but a space sticks out where the windows are.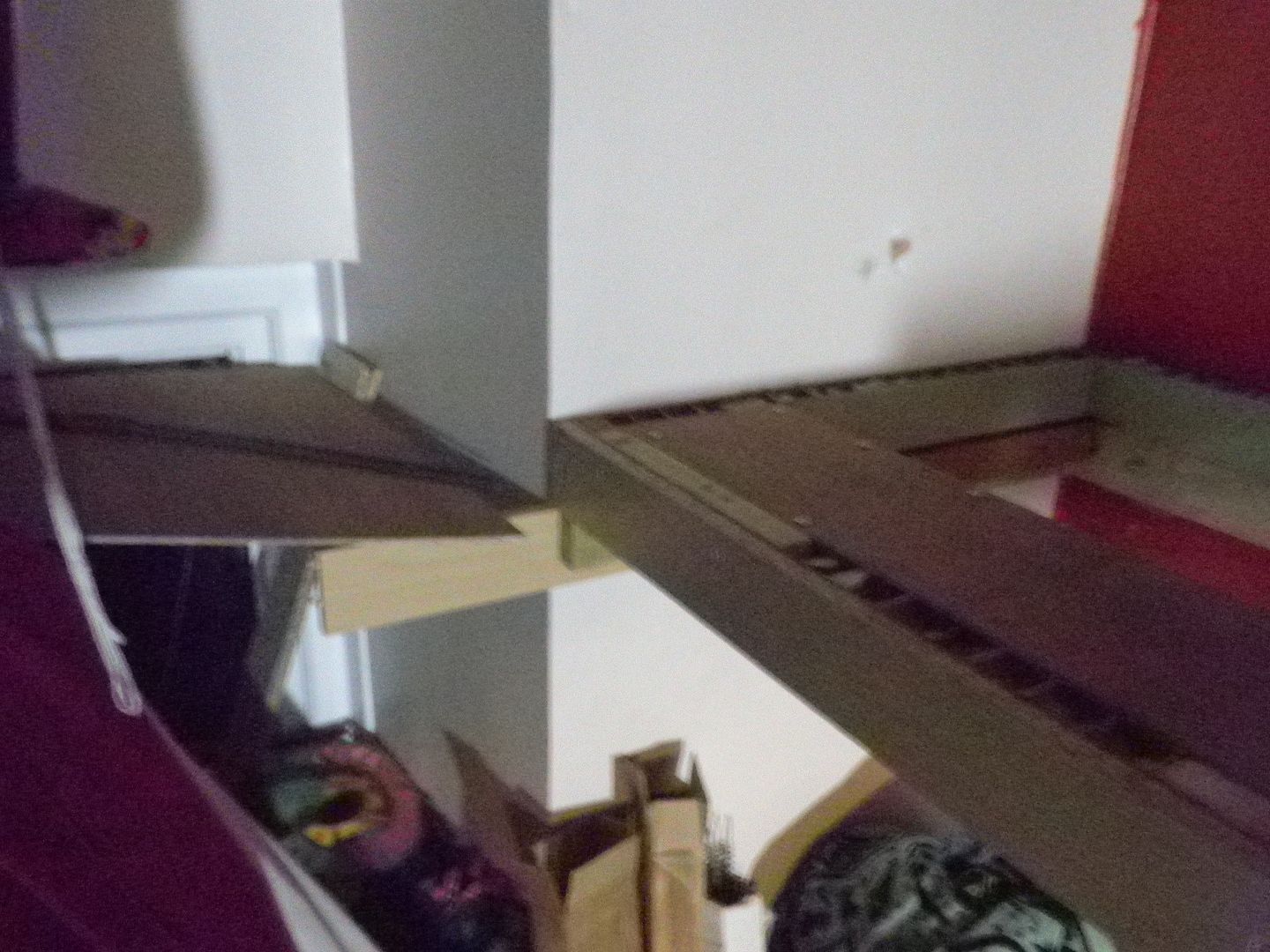 I've managed to get a 3ft 6" curve on the outside track. Sub 4ft isn't ideal but there is no other way i can fit in. Engines with long wheel bases- which means most main line steam engines need to have side play put in with the driving wheels. I'll turn my hand to this at a later date. I have a Halegen metropolitan class 28 (Boco) so will probably try converting him first. Disels are much easier in general and i might be able to get away with dropping in some P4 wheels. Might try Diesel as well as i have an 08 ready to be converted. Better build a few wagons and coach bogies first though. Wheels should be sprung to stop engines bouncing up and down, but i might try that when i build a chassie for a J70 ( Toby), the Hornby and Bachmann ones are well over sized.
The layout has the tunnels inverted so they can be put on the ends of the layout and hide the corners. The other end will be fed by a larger curved cassette that can be put away as it splits my L shaped room in to. I won't make it until i make Wellworth yard on the other side of my room, so thats a long way off.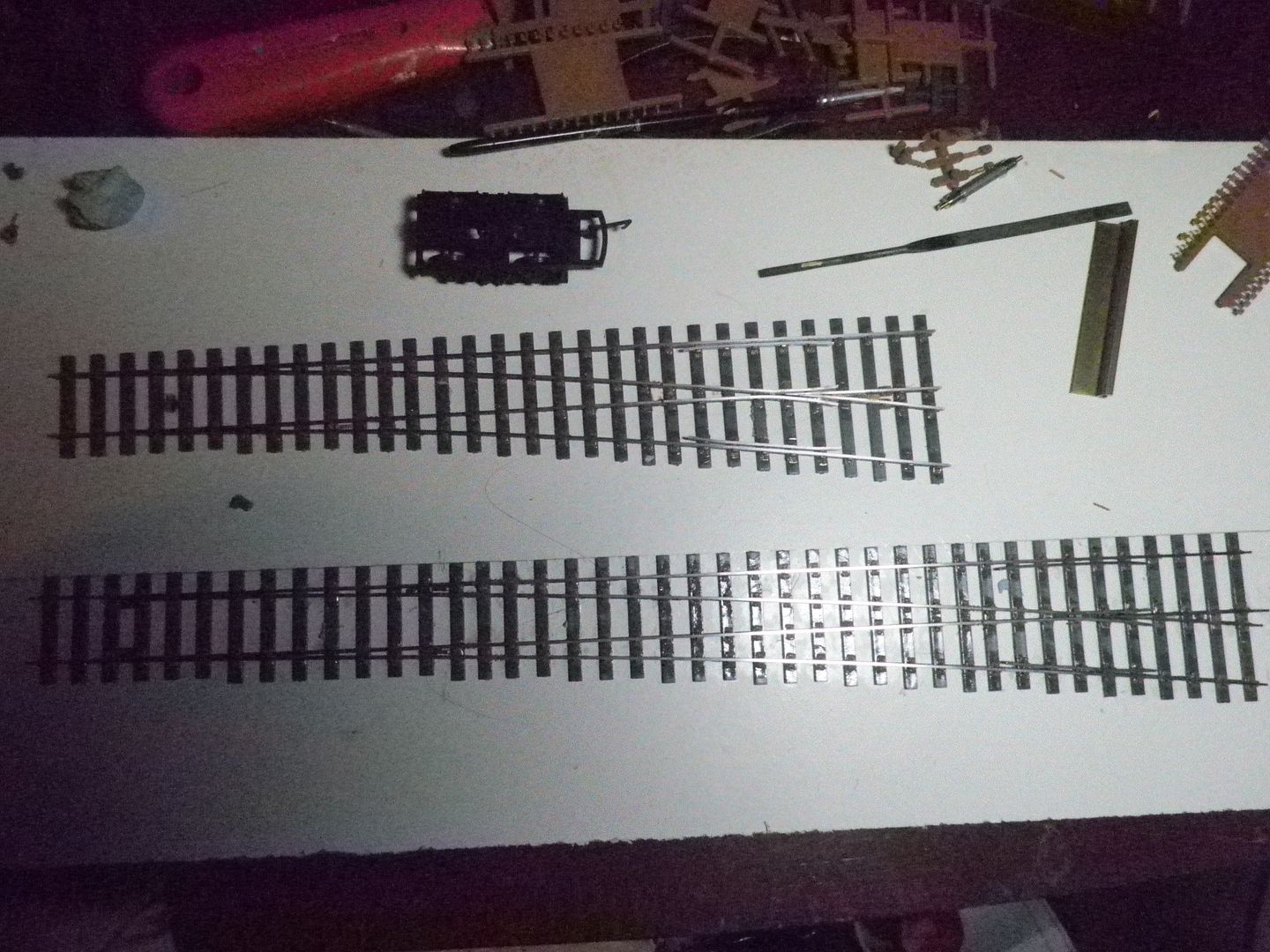 I've made my first two Exactoscale turnouts. Took a bit of head scratching and swearing but i did it and my ebay brought p4 trucks go through them nicely. I was dreading making my first point but the kit is well made and i only went a bit wrong at times. A few of the chairs took a battering when being cut off the timbers to get the gauge right but no one will ever notice them when the track is weathered. The kits aren't cheap (£50 or so) but i was happy to pay out and get it right rather than fail. The next two points i will make more myself to save money and the following ones i will try making from completely from scratch. There are jigs for making switch blades but i think i will stick to buying factory machined ones at least for a while as they are the trickiest. Barry Soloman's dvd on track building along with Knuckle's postings have been a big help.
I'm not dyslexic but find visual instruction much better for learning what to do. I've said it before in other posts but the Right track DVD's are a god send for serious modelling. I would also recommend Tony Hill and Rail Model for scenery. Woodland Scenic's DVD also shows some good techniques but i would keep a finger on the fast forward button as they bombard you with their american sales pitch every three minutes or so.
I've got some free time at the moment so i'm hoping to make a nice bit of progress with track laying in the next few weeks. Making a device to operate the switch blades and getting the tortoise motor to work are my biggest concerns along with switch polarity but if i can get past those I should be ok.